Rent a hummer limo in Fort Lauderdale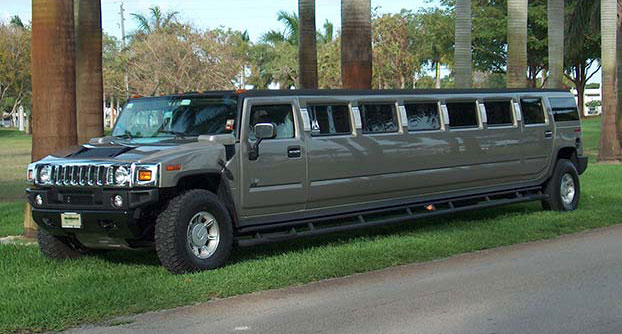 It is a common site these days but these beauties never stop turning the heads of every individual who crosses their way towards them. We have all experienced staring at these limos in awe and wishing it was us taking that luxurious ride. This is not a dream that can't come true. South Florida Transportation offers you the service of renting the largest hummer limo you have ever seen wondering around on the streets of Fort Lauderdale in the most affordable prices and drive by the most professional and experienced chauffeurs.
These gorgeous beauties with a capacity of accommodating 20 people are perfect for a large family or a huge group of friends going to events like weddings, bachelorette parties, anniversaries, prom, birthdays and Bar/Bat Mitzvahs. Rent a hummer limo in Fort Lauderdale ensure to make such special events of your life even more memorable and unique by offering the service of renting the most amazing and luxurious hummer limos. They offer 9 types of hummer limos and you can choose any one that fits your needs.
All the 'once in a lifetime' events in your life call for privacy and a completely personal experience with no strangers peeking into what you are doing. South Florida Transportation brings this into existence by offering hummer limos with dark tinted windows that make the efforts of all stalkers to peek inside, go in vain. Apart from this, the interior of these hummer limos is indescribable with mere words. For a moment, it makes you feel as if you are dreaming. Hummer limos offer technologically advanced features like 6-10 flat screen TVs (with a Play-station 2), the sound system mentioned earlier (which also includes 12 12″ speakers), neon lighting, a wet bar area with 18 crystal glasses, dual A/C units, 4 lava lamps, a noise activated laser show, and all the fun you can stand during your limousine extravaganza. Even the thought of having such a luxurious ride to a special event, makes your heart dance with excitement.
Apart from luxury and style, hummer limo in Fort Lauderdale are safe and comfortable too. South Florida Transportation makes sure to be very punctual with their services and drop the limo at the site where it is ordered to be right on time. The drivers are very well trained and extremely polite, experienced and professional to ensure that you have a comfortable and safe ride. Moreover, our chauffeurs will drop you off to your venue and park the limo in a safe spot and wait for you patiently till you get free. Hence, even finding a parking spot is not of your worry in this case.
So, what are you waiting for? Everybody deserves a little bit of extravaganza in their life sometimes. Get ready to go that next wedding or anniversary party with your friends in these luxurious limos in style and make a statement.
hummer limo fort lauderdale hummer limo in fort lauderdale hummer limo rental rent a hummer limo