H2 Limos
Some of the The H2 Hummer Limos Come in Silver, Black, White, Yellow or White / Black. These Limousines are the top of the line in all of South Florida. South Florida Transportation limousines are sure to be a head turner on South Beach. Take it to the clubs on the Miami beach strip and live like the stars do. How about driving down to the Fort Lauderdale club scene in a this vehicle! We also go to the West Palm Beach Clubs, Miami Night Clubs, South Beach Miami, or to the Key West parties, don't limit your self….. jump in and let us take you for the ride of your life.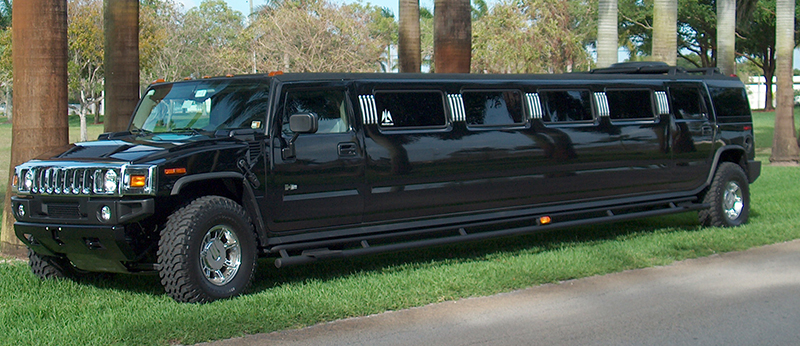 South Florida Transportation H2 Hummer Limo Amenities include 7 TVs with TVs in front, strobe light, neon lighting, all hard wood floors, wood bars areas, leopard interior or stainless steel and marble throughout.
They also include a Stereo system with subwoofers, all-terrain tires, full-time all wheel drive, beautiful aluminum wheels, will seat up to 17 people. The Limo rental is also great for weddings due the large capacity the H2 hummer holds. Its great for Fort Lauderdale wedding events or Miami Bachelor Parties, as well as other exciting South Florida events. You tell us where you want to go and leave the driving up to us. We will get you there and back with out the DUI and in style.
Boca Raton H2 Limousines
Coral Springs H2 Limousines
Fort Lauderdale H2 Limousines
Miami H2 Limousines
Plantation H2 Limousines
West Palm Beach H2 Limosines