Why should you rent a party bus for your June summer wedding?
Why should you rent a party bus for your summer wedding? June brings many things to south Florida. With the end of the school year, vacationing families arrive for the sand and sun, the hibiscus flowers lead the blooms into a rainbow of nature's beauty, and couples watch as months of planning began to materialize as their wedding day quickly approaches. June weddings are not only popular because of the beautiful weather and the absences of educational responsibilities, it is also good luck to marry in June.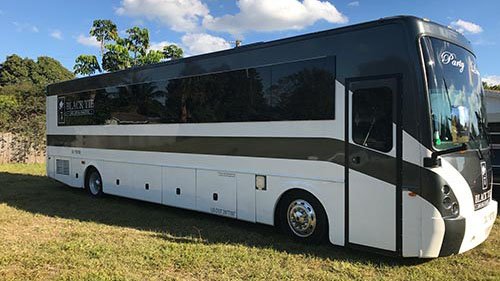 June is still the most popular month to marry, followed by July, August, and September. There are obvious reasons June is the most popular month to marry and other reasons we may not even know influence the choice of wedding dates. June receives its name from a spiritual deity, an ancient Roman goddess, Juno. The goddess Juno was the protector of women in all aspects of life, but especially in marriage and childbearing, so a wedding in Juno's month was considered most auspicious. Juno can not be expected to bring all the luck, with planning and the execution of pampering details, including professional transportation for your wedding party in a party bus from South Florida Transportation, you will be lucky and prepared on your wedding day.
Consideration and planning is not limited to the wedding day. Getting married involves more than the wedding day. There are engagement parties, bachelor and bachelorette parties, wedding showers, rehearsal and rehearsal dinner, fitting dates, and the reception. It is beneficial for your sanity and your pocketbook to schedule a party bus block rental with South Florida Transportation. Remove transportation from the to-do list for your wedding, engagement party, bachelor and bachelorette parties all in the same reservation, everyone involved in the preparation and planning will thank you.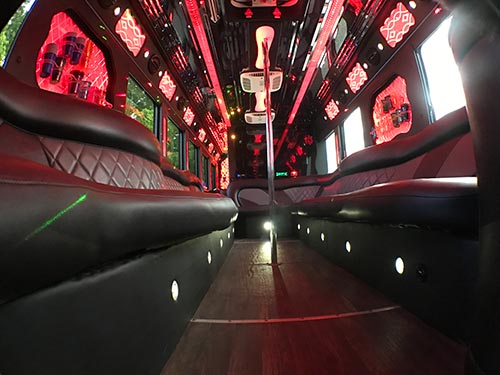 25 Passengers Party Bus Interior
Taking into consideration all the other dates and events that come with getting married, the wedding is the ultimate display and the best day of your life. Your wedding day should and will be the most beautiful, memorable, special, stressful, overwhelming, and down right frustrating day of your life. One decision that will alleviate a ton of stress on your special day is allowing South Florida Transportation to provide a party bus rental to transport your wedding party. It guarantees your whole wedding party will be exactly where you want them exactly when you need them to be there.
The photo ops alone are worth renting a party bus on your wedding day. When you have a wedding party bus rental you are not limited to taking photos where the ceremony is to take place. You can go to the beach, then to a landmark, go downtown, or your favorite park. Having South Florida Transportation available to transport everyone allows you and your photographer the freedom to be as creative as your imagination will allow. The logistics that would otherwise make it impossible to have a multiple location photo shoot becomes a non-issue because of your decision to have a party bus from South Florida Transportation whisk your wedding party around town while fun and excitement keep your wedding party entertained.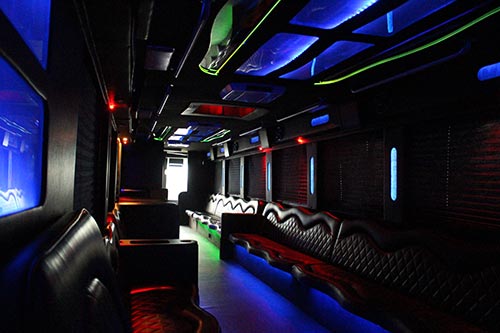 50 passengers party bus rental interior
Wedding parties on average consist of four bridesmaids and four groomsmen, a maid of honor and a best man; you can't forget the flower girl and ring bearer. Then the mother and father of both the bride and groom and God willing their grandparents, as well. That is a lot of people to keep up with and to keep on track. When you allow South Florida Transportation to put your wedding party in our party bus rental you can be assured everyone will be where they are supposed to, when they are supposed to. Now that the worries have been eliminated you can start having some fun.
Your wedding is a once in a lifetime experience and should be fun and memorable from beginning to end. Imagine your entire wedding party comfortable relaxing inside their exclusive party bus, champagne glasses being passed around and topped off. You get to start your day with a beatiful toast surrounded by people you love. Every member of your wedding party there to support the two of you instead of having to worry about time, transportation and their own dependants.
After the beautiful ceremony and the receiving line, it's time to get the wedding party all set up at the reception. How great is it to know your entire wedding party is in place before the DJ announces the new Mr. And Mrs. entering the room for the very first time.
Of all the decision-making that comes with getting married, having a wedding party bus rental is a no-brainer. Another no-brainer is allowing South Florida Transportation to deliver the impeccable service they are known for. Their large Fleet allows you to pick a wedding party bus rental that fits your needs and your budget. The drivers are courteous, well-trained, professionals there to see to your every need. This will be your easiest decision, after I do. Nothing goes together like June, weddings and a party bus from South Florida Transportation.